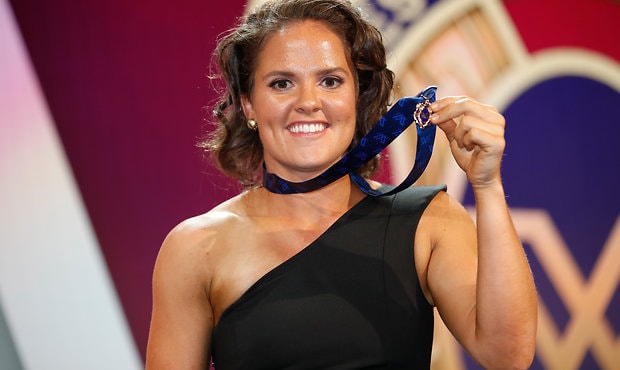 AFLW 2018 league best-and-fairest Emma Kearney will join the Roos for their first season
NORTH Melbourne and Geelong have started their list builds with a bang ahead of their entry to the NAB AFLW competition in 2019.
Friday marked the start of the signing period for the two expansion clubs, which have until May 21 to sign AFLW players who were listed this year with the eight founding clubs.
Geelong had already announced Melbourne quartet Melissa Hickey, Richelle Cranston, Anna Teague and Erin Hoare as inaugural players, while North Melbourne had landed the biggest fish of all, convincing league best-and-fairest Emma Kearney to cross from the Western Bulldogs.
Friday was the first day players could officially sign with the clubs.
North Melbourne also recruited highly skilled Collingwood duo Jasmine Garner and Jess Duffin. Garner is regarded as one of the strongest-marking forwards in the competition, while Duffin is more than capable of playing forward or back.
The Roos also added Brisbane pair Jamie Stanton and Tahlia Randall.
Stanton was a highly improved player this year, running off half-back and through the middle, while the 19-year-old Randall was a NAB AFL Rising Star nominee for her work in the ruck.
Joining them are Carlton defenders Kate Gillespie-Jones and Danielle Hardiman, as well as Western Bulldogs premiership midfielder Jenna Bruton.
Young Bulldog Daria Bannister, a Launceston native, also signed with the Roos. She is recovering from a torn ACL suffered in round one of the AFLW season.
On Monday, the Kangaroos also confirmed the signing of Brisbane Lions forward Brittany Gibson. The 26-year-old Gibson is from the Burnie Dockers in Tasmania.
The Roos signed their first Tasmanian non-AFLW player, Maddison Smith, on Friday. The forward is from Clarence and kicked nine goals in her only match in the Tasmanian State League Women's competition this year.
North Melbourne now has 11 players on its list. The Cats signed six players from its VFLW team on Tuesday under the open-aged signing rule, taking their AFLW playing stocks to 10.
Open-aged players must have been aged 18 as of January 1 this year and must not have been on an AFLW list in 2018. Clubs can sign open-aged players until the NAB AFLW Draft period.
North Melbourne and Geelong cannot take any more than four players between them from each existing AFLW club – Adelaide, Brisbane, Carlton, Collingwood, Fremantle, GWS, Melbourne and Western Bulldogs – unless agreed to by both the club in question and the AFL.
With all AFLW players out of contract, AFLW clubs have the right to counter any offer put forward by either North Melbourne or Geelong to a player who was on their list in 2018.
The AFL has to agree to any player movement before it is made official.
No compensation terms have been announced by the AFL to clubs who have lost players to expansion sides, although the draft order will be released at the end of the expansion signing period.
Some form of compensation may be worked into the draft order or the number of draft picks given to a club.
The remaining eight AFLW sides have their own sign and trade period from May 23 to June 4, and can re-sign up to 23 of their 30 players who played this year.
GEELONG CONFIRMED SIGNINGS
Cassie Blakeway (Geelong VFLW), open-aged signing
Richelle Cranston (Melbourne), forward/midfielder
Kate Darby (Geelong VFLW), open-aged signing
Renee Garing (Geelong VFLW), open-aged signing
Rebecca Goring (Geelong VFLW), open-aged signing
Melissa Hickey (Melbourne), defender
Erin Hoare (Melbourne), ruck
Jordan Ivey (Geelong VFLW), open-aged signing
Danielle Orr (Geelong VFLW), open-aged signing
Anna Teague (Melbourne), defender
NORTH MELBOURNE CONFIRMED SIGNINGS
Daria Bannister (Western Bulldogs), forward
Jenna Bruton (Western Bulldogs), midfielder
Jess Duffin (nee Cameron, Collingwood), forward/defender
Jasmine Garner (Collingwood), forward
Brittany Gibson (Brisbane), forward
Kate Gillespie-Jones (Carlton), defender/ruck
Danielle Hardiman (Carlton), defender
Emma Kearney (Western Bulldogs), midfielder
Tahlia Randall (Brisbane), ruck
Maddison Smith (Clarence, Tasmania), forward
Jaime Stanton (Brisbane), midfielder/half-back
Source: AFL FOOTBALL NEWS