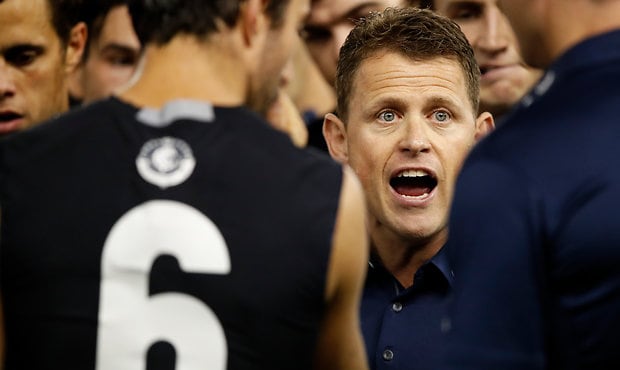 CARLTON coach Brendon Bolton has escaped with a warning for swearing at Essendon defender Mark Baguley, but has been cautioned by the AFL that a repeat offence could result in a fine, suspension or both.
As he was heading towards his team huddle at three-quarter time in last Saturday's game at the MCG, Bolton turned towards Baguley, who was attempting to talk to an unreceptive group of Carlton players, and appeared to shout at him to "f*** off".
Baguley had been involved in a scuffle with Blues forward Jed Lamb minutes earlier, sparked by offensive personal sledges between the pair.
HAVE YOUR SAY Re-rate your team's trade period
AFL football operations manager Steve Hocking said on Wednesday he had written to Bolton about his exchange with Baguley, but in the circumstances viewed a warning as sufficient.
Hocking said Bolton had contacted him over the weekend and apologised for his actions, realising they had the potential to escalate on-field tensions between players, while his previous exemplary record had also been taken into account.
However, Bolton would risk a fine and/or suspension for any future breach of the AFL player rules, Hocking said.
Bolton told Fairfax radio on Sunday he would "learn pretty quickly" from the incident.
"I was just saying politely to go back to your huddle," Bolton said.
"The passion for our playing group got the better of me."
Source: AFL FOOTBALL NEWS