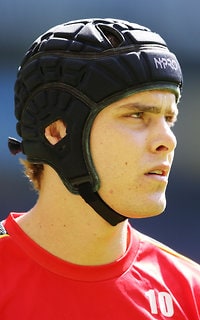 Kade Kolodjashnij has lingering symptoms from concussion
GOLD Coast defender Kade Kolodjashnij has received a significant boost in his ongoing struggle with concussion symptoms after tests revealed his issues centre around a weakness in his neck and should not affect him long-term.
Kolodjashnij missed the final 10 rounds of last season after being concussed in the Suns' round 13 loss to Carlton. He returned to play this year's first four rounds before another knock in April triggered more concussion symptoms.
The former No.5 draft pick has been restricted to just three NEAFL games since and, after headaches forced him to withdraw from a match two weeks ago, he underwent testing in Victoria.
Gold Coast football manager Jo Haines told the club's website the results of those tests had been very encouraging for Kolodjashnij.
"(Kade) had some specialist advice last week down in Melbourne which was really helpful which identified some issues more so to do with his neck than the actual concussion itself," Haines said.
"That's giving Kade and the medical team some really good direction on the way forward.
"With all of these sort of incidents, the primary consideration is the player and the person himself and Kade has obviously been experiencing a tough time, so to get some positive news last week was really great for him."
Kolodjashnij's manager, Anthony McConville of Mac's Sports, told AFL.com.au his client had been diagnosed with a weakness in his neck that was vulnerable to knocks, but said it was hoped strengthening the surrounding muscles would help resolve his issues.
"The results of the tests were very positive and there should be no issues long-term for Kade – that's the good news," McConville said.
Kolodjashnij's good news comes a week after his twin brother, Geelong defender Jake, expressed serious concerns for his health.
"It's been an up and down ride for Kade because he was going really well in the early stages (of his AFL career), and then he had some minor hits, and because of his (injury) history, it's really upsetting his head," Jake Kolodjashnij told RSN radio.
"He's about to see a specialist in Melbourne today, so I'm going to catch up with him to see where he's at with his head. Fingers crossed it all goes well for him, but there might be some conversations on where he's at (with his concussions).
"I think (it's affecting his confidence) to be honest, because it's a pretty serious conversation and you don't want to muck around with the head.
"Hopefully he can come back next year after a pretty tough situation."
Kolodjashnij is due to come out of contract at the end of this season, but both club and player are happy to delay talks as they focus on his welfare.
The Tasmanian has played 74 games for the Suns, 40 of which came in his first two seasons, 2014 and 2015.
After finishing fifth in the NAB AFL Rising Star award in his debut season, Kolodjashnij finished runner-up in the Suns' 2015 best and fairest award.
Source: AFL FOOTBALL NEWS