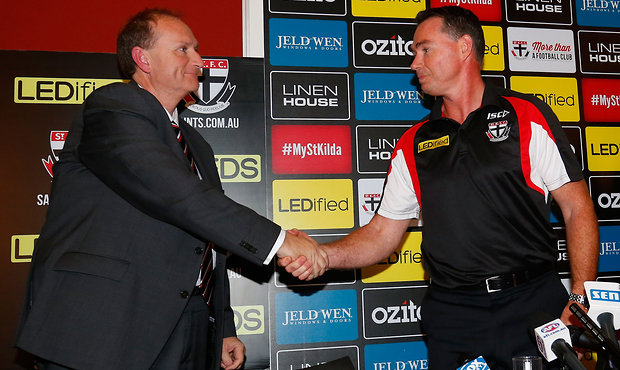 THEY say a week is a long time in football. In football terms, 1553 days is an eternity.
As St Kilda prepares for a doomsday clash with Gold Coast on Saturday, president Peter Summers' address at the 2014 season launch remains ringing in the ears of the club's most loyal supporters.
On a night the club self-titled the 'Road to 2018' with the unveiling of a five-year strategic plan, the results have resembled more of a road to a wasteland.
"If we are going to be a contender, we may as well plan to win the bloody thing," Summers told the room that night.
By 2018 the Saints were to be a top-four side positioned to be a consistent premiership contender that would deliver the club's second flag by 2020.
They were to have more than 50,000 members, proposed to have reduced debt and be "admired as a competition leader in recruiting, player development and coaching".
And November 2013 was meant to have been the first of four drafts where 18 draftees would arrive via the first three rounds in order to be attacking free agency from 2016.
Instead, they are staring down the barrel at a winless streak extending to 12 matches as they prepare to board a flight for Metricon Stadium this weekend.
Heading to a bye week sitting at 1-1-11 would bring carnage.
Club greats Nick Riewoldt and Leigh Montagna – both in the room on March 13, 2014 – have shared fears this week for the direction of a club they once fought for after a 71-point drubbing to Sydney.
Both could've played on and extended their stellar careers this year, but it would've only papered over the cracks that have emerged less than four-and-a-half years into the five-year strategy.
It has left coach Alan Richardson holding the baby, with just 34 wins from his first 100 games as Saints boss.
99 PROBLEMS But a contract ain't one for Richo
But too often the senior coach is the one lumped with all responsibility, Richardson was just months into the job when Summers drove and shared the club's vision.
Directors Andrew Thompson (vice president), Danni Roche, Russell Caplan and Paul Kirk have been there for the same ride and chief executive Matt Finnis started in April of Richardson's first season. Jack Rush was part of the board that appointed Richardson, left and then re-joined in February 2017.
The same seven, including Summers, formed part of the 10-person board that extended the coach's stay late last year following just missing out on two consecutive finals series.
Ahead of the battle to avoid the wooden spoon with the Suns, Richardson has 54 games left on his contract.
Summers' reign has 32 matches left, finishing next year when his maximum six-year stint expires – if he gets that far.
Yes, the board has executed a revival of life at Moorabbin and a plan to return to New Zealand and play in Auckland was only held up by government funding for a new stadium.
But Saints fans are getting restless with what they see on the field.
The Saints leave Etihad Stadium after being thumped by the Swans. Picture: AFL Photos
As Richardson acknowledged in his early days, accountability from planning is healthy at football clubs.
As the mid-season cut-off approaches, membership sits at less than 43,000. With the standard membership priced at $150-200, that's more than $1-1.4m the club is down on estimations.
The profit and loss standing even had AFL CEO Gillon McLachlan publicly questioning the club in the pre-season.
The drafting blueprint was formulated by head of football Chris Pelchen and then list manager Ameet Bains, who worked alongside recruiting boss Tony Elshaug.
Pelchen resigned at the end of 2014, Bains was promoted to chief operating officer that year, a job he held for the following three seasons before moving to the Western Bulldogs as CEO.
Elshaug remains recruiting boss, a role he has held since 2010. He works under new head of football Simon Lethlean, who was appointed in December last year after Jamie Cox was demoted to 'head of emerging football programs'.
Of the 12 players who eventuated from the mooted 18 draftees, only six are locks to be packing their boardies this week. Jade Gresham has played every game, Paddy McCartin has showed glimpses, and despite all spending time out of the best 22 this season, Luke Dunstan, Jack Lonie, Bailey Rice and Josh Battle will be there.
Blake Acres and Ben Long are injured, Daniel McKenzie's spot is on thin ice, while Hugh Goddard, Brandon White and Jack Billings played VFL last week.
Nathan Brown, the club's only free agent acquisition from the start of the journey, is still to be monitored with concussion before a bout with Suns co-captain Tom Lynch.
From 2016 onwards, the Saints were to have gone hard at free agency. All they have to show for it is Brown and a wish list for this season that is topped by Andrew Gaff and Rory Sloane.
The idea to be a competition leader in coaching started well by landing Luke Beveridge as director of coaching ahead of the 2015 season. But he never walked foot into the old home at Seaford, joining the Western Bulldogs as senior coach that year before holding the premiership cup aloft 49 games later.
Beveridge's post was replaced by Danny Sexton, who was upgraded from midfield coach. At the same time, highly regarded level four coach Adam Kingsley moved into the midfield role with Rohan Welsh, Simon McPhee, Lindsay Gilbee and Aaron Hamill part of the coaching structure.
Three seasons on, all six remain part of the furniture, with Henry Playfair poached this year from Sydney.
The final pillar of player development has been questioned internally with Lethlean putting the microscope on the club's 40-100 game players last month.
And while they're the same group of players that will decide whether Richardson sees out the remainder of his deal, his tenure was just one aspect of a review chaired by Summers at club headquarters four Thursdays ago.
Two days after the exhaustive meeting, Summers showed he had his head in the sand when he refused to budge on the five-year aspirations when speaking on SEN radio.
For the sake of Saints fans, let's hope it's at the top of the next agenda. And not the next plan from 2019-2023.
Source: AFL FOOTBALL NEWS