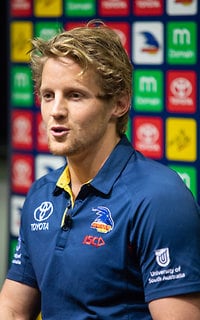 Rory Sloane will be a Crow for life
MENTION the words "Gold Coast", and Adelaide supporters cringe thinking about the controversial pre-season camp.
But the Glitter Strip was also where the momentous deal to make in-demand star Rory Sloane a Crow for life was finalised.
Crows list manager Justin Reid met with Sloane's manager Alex McDonald on the Gold Coast on Tuesday to put the finishing touches on the five-year contract extension.
Both were in town for the 2018 NAB AFL Under-16 Championships.
It was the culmination of 12 months of negotiations.
"Until it's done, it's never done," Reid told AFL.com.au on Wednesday.
"But I've always been pretty confident given the conversations I've had with 'Sloaney' that we always thought his priority was to stay."
Talks began soon after the new collective bargaining agreement was signed off midway through June last year.
They were put on the backburner to allow Sloane to concentrate on the Crows' finals campaign.
There was another delay when Sloane's then-manager Ned Guy became the general manager of list management at Collingwood in October.
Sloane and his wife Belinda went on an overseas holiday and contract talks resumed around the start of pre-season training in December.
Sloane announced in an Instagram post on April 9 that Belinda was pregnant and they were expecting their first child.
It was then speculation ramped up that Sloane – a restricted free agent – was considering a move back to Melbourne to be closer to family.
Sloane confirmed on Wednesday he and Belinda seriously weighed up a move interstate before deciding to remain with the Crows.
"We kept open dialogue," Reid said.
"If they had any questions of us or vice versa, we just kept having the conversation.
"It was never stop or starting, there was always ongoing dialogue."
Sloane called Crows chief executive Andrew Fagan on Wednesday morning to thank him for getting the deal over the line and apologising for it dragging on until July.
"He said to me, 'I know it was probably frustrating and it took a little longer than we all would've liked'," Fagan told Melbourne radio station SEN on Wednesday.
"I said to him, 'To be fair, you have not wavered through the entire process'.
"He was highly transparent.
"A lot of players will let their managers do a lot of that talk, and we certainly worked closely with Alex McDonald, his manager throughout this process, but Rory was happy to continue to have that really transparent dialogue.
"We spoke to both him and Belinda throughout.
"There were no games, there was no guessing and ultimately, I walked away from every single conversation going, if I take it on face value, Rory Sloane isn't going anywhere.
"He just needs to wake up one day and say, I'm comfortable, I've got all those boxes ticked and it will be OK.
"And that happened today."
Reid declined to say when the fifth year of the contract was added as part of the negotiation.
Sloane, 28, will be 33 in the final year of the deal.
He's played two games since missing 10 weeks with a foot issue, that became a minor strain of the Lisfranc ligament.
"The medical assessment is that he's fully recovered from that and he will be fine," Fagan said.
"There are very few players who prepare themselves as well as he does as an elite athlete.
"He's A-grade in that respect in every single way.
"He'll get everything out of his body this year, next year and for the next five years.
"Except for any catastrophic injury that we hope will never happen, I except him to be a really high contributor for us for the duration (of the contract)."
Source: AFL FOOTBALL NEWS