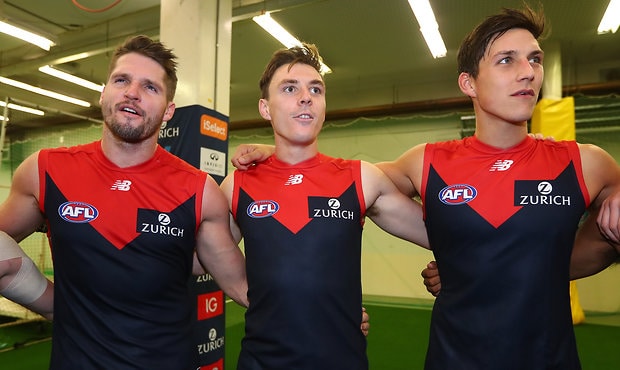 Jake Lever will have the support of his Melbourne teammates against Adelaide this week
SHOULD Adelaide choose to target Jake Lever in Sunday's game against Melbourne in Alice Springs, his new teammates will be sure to have his back.
That's the declaration from Lever's teammate, Tom McDonald, who says the Demons will not allow the Crows players to physically intimidate the star defender in his first meeting with his former club.
Adelaide captain Taylor Walker was left unimpressed by Lever's departure at the end of last year and fired a number of barbs at his former teammate.
"We'll be trying to back up Jake if they try to get stuck into him or ruffle his feathers, which happens sometimes when teams pick out an opposition defender to target," McDonald told reporters on Monday.
"It could be him this week but we'll be there backing him up."
After Melbourne parted with two first-round draft picks, Lever joined the Demons in the off-season on a four-year contract worth up to $800,000 a season and, following a slow start to the year, the 22-year-old has started to hit his straps in recent weeks.
Lever gathered a season-high 27 disposals along with a match-high 13 intercept possessions in Melbourne's 109-point rout of Carlton on Sunday.
An injured Walker won't be out there against the Demons on Sunday but Lever is still expecting plenty of banter with his former teammates.
"Some of my best mates still play for Adelaide. For me it was never going to ruin any friendships or anything like that," Lever said.
"I'm sure there'll be a cheeky couple of texts this week. I'm just excited to go up to Alice Springs and play well hopefully and hopefully we get the four points."
Source: AFL FOOTBALL NEWS