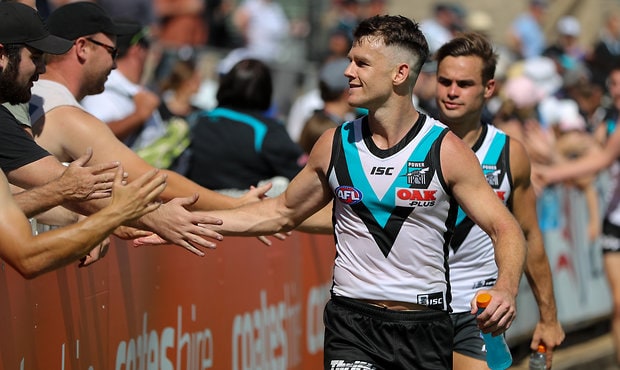 A SEASON-ENDING knee injury in 2012 was not only the catalyst in transforming Port Adelaide forward/midfielder Robbie Gray into an elite player in the competition, it also sparked his interest in spotting talent.
Gray will play his 200th AFL game alongside exciting debutant Zak Butters in the Power's round one encounter with Melbourne at the MCG on Saturday.
Butters caught Gray's eye last year with his performances for the Western Jets in the TAC Cup and for Vic Metro at the NAB AFL Under-18 Championships.
Gray was thrilled when the Power selected Butters with the 12th pick in the 2018 NAB AFL Draft.
"I was a Zak Butters fan … he's got some tricks," Gray said on Thursday.
"These guys (Port's recruiting staff) have been watching him for a long time.
"I've done a little bit of work with (Port's national recruiting manager) Geoff Parker and those boys and watched a little bit of vision in the lead-up to the draft because it's a bit of an interest and maybe something I'll look into after footy.
"He (Butters) is a great kid, really humble as well, so I'm really happy for him."
FULL FIXTURE Every round, every game
Gray – a fourth-round selection of the Power in the 2006 draft – started watching under-18 football in 2012 after he tore his ACL in the round four clash with Collingwood.
One of the players he got a glimpse of was co-captain Ollie Wines, taken by the Power with the seventh selection in the 2012 draft.
WHO MAKES FINALS? Do the 2019 Ladder Predictor
"I went to the under-18 championships when I was out with my knee (in 2012), I think that was Ollie's year, so got to watch him in under-18s," Gray said.
"I speak to Geoff Parker a fair bit and look at a bit of vision when I can and have a look at the schedule and if anything fits to have a look.
"It's a bit of an interest and maybe something I'll look at one day."
FULL INJURY LIST Who's racing the clock for round one?
Gray also flagged his interest in list management from his love of American sports, however he doesn't intend on hanging up the boots anytime soon.
About 18 months ago, he quietly put pen to paper on a one-year extension with the Power until the end of 2020.
RULES WASH-UP How your team adjusted in pre-season
Around the same time, Gray was diagnosed with testicular cancer four days after the Power's extra-time finals loss to West Coast.
"It put things into perspective pretty quick," Gray said.
"It was a bit of a tough time for myself and family and friends, but I had amazing support and had a little baby on the way.
"He's here now, life's good, health's good, so I'm just looking forward to the season."
Gray has a football resume second to none.
He's a four-time All Australian (2014-2015, 2017-18) and three-time Power best and fairest (2014-16).
But he says he wouldn't have reached those heights if it wasn't for the lessons he learned dealing with the disappointment of missing the majority of the 2012 season.
"Early days, I had a lot of issues with my body and spent a lot of time on the sidelines," he said.
"That year off gave me a bit of time to strengthen my body and get it in the right physical state to compete at the level, week in and week out.
"I've changed a fair bit the way I go about it, got a little bit more professional and looked after myself a little bit more and learned more, that was the biggest thing, a bit more education around it.
"I've learned exactly what I need to do to allow myself to be the best player I can be."
Source: AFL FOOTBALL NEWS