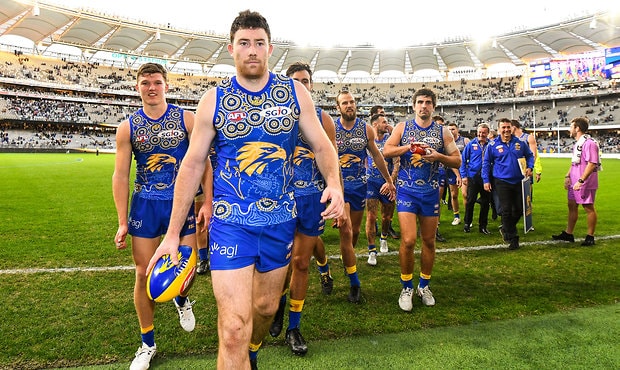 Will Jeremy McGovern remain an Eagle?
JEREMY McGovern has opened up on the toughest decision of his life, saying the call on his football future is far more complicated than simply taking the biggest offer on the table.
The star West Coast defender is hot property on the restricted free agency market, and has attracted significant interest from Victorian clubs and Fremantle.
But McGovern won't make a call before the Eagles' campaign ends, and not without consulting people in his inner circle first.
"I'll talk to a few, as many as I need to I guess, people I trust, who have my best interests (at heart) and have a good gauge on the type of person I am, and what I would want and not what everyone else would want," McGovern told AFL.com.au.
"It's more about your values because most people you speak to will say 'just go and take the biggest offer you've got and so be it', but I think there's a bit more to it for me than that."
OFF THE MARKET Star Crow staying put
A laidback character, keen fisherman and new father, the 26-year-old has previously stated lifestyle and long-term security will be key factors in his decision.
AFL.com.au reported in May that a sixth year is a sticking point in negotiations with West Coast, which is also trying to re-sign star onballer Andrew Gaff and ruckman Scott Lycett before they hit restricted free agency.
Knowing the next contract extension could be his last, McGovern has plenty to weigh up.
"It's obviously a massive decision. It's a good decision, but it doesn't feel like a good decision, it feels like a bit of a burden at the moment," the former rookie turned dual All Australian said.
"You've got to try and remind yourself it's a good thing."
While delaying his call to season's end has helped McGovern focus on footy, speculation about his future has bubbled away.
That talk took another twist recently following a report younger brother Mitch was unhappy at Adelaide.
"It would be awesome to play with him, that's for sure, but obviously Mitch is in contract (until 2020) and the last I spoke to him he was enjoying it at Adelaide – I don't know where all that stuff came from," McGovern said.
"We're not going to manipulate anything to try and play with each other.
"We can play together after our footy career is over back down in Albany.
"It's not a main priority. We've both got our journeys."
DOG ON THE OUTER? Clubs circling free agent
Given the fact their father Andrew played 63 games for Freo in the 1990s, the Dockers have been linked to a play for the brothers.
Both are managed by Perth-based agent Colin Young, who last month confirmed Freo's interest in Jeremy.
While 11 footballers have played for both WA clubs, it would be groundbreaking for such a high-profile player to move across town.
"Yeah, I'm aware of it (Fremantle's interest). I've heard of it, it's a bit hard not to hear about it with everyone in my ear," McGovern said.
"It's flattering, I guess. It's nice to know that someone wants you in their footy team at their club, but I'm not looking too far into it, to be honest.
"Not much has entered my thoughts really, except for being at West Coast at this stage.
"I'm just trying to focus on my footy as much as I can and not think about all that stuff too much.
"Dad's given us a bit of advice, but I think he'll be happy either way with whatever I do and wherever I'm at.
"Obviously, he's your Dad, he'll support you with whatever, but he loves the club, he's a West Coast supporter now.
"It would be hard for him to admit it, but he will admit it eventually if you poke him enough.
"I've just converted him here, so I wouldn't want to have to convert him somewhere else."
Source: AFL FOOTBALL NEWS