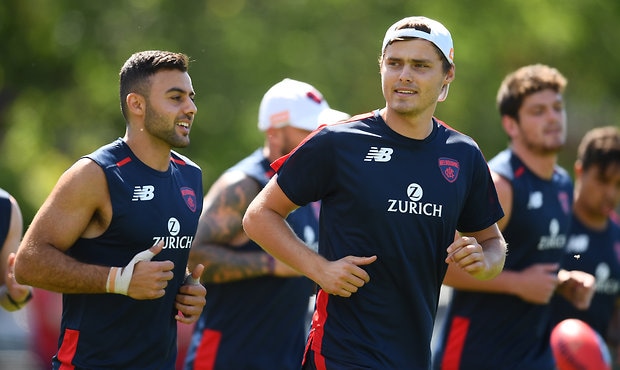 MELBOURNE recruit Kade Kolodjashnij will be "touch and go" to be ready for round one due to an adductor injury, coach Simon Goodwin has revealed.
However, the Demons coach is more confident on star defender Steven May, who has been sidelined by a minor hamstring complaint that is expected to resolve in time for the JLT Community Series.
Kolodjashnij is unlikely to play in the pre-season competition as Melbourne takes a more cautious approach his recovery.
"It'll be touch and go for Kade, but we're not going to take any risks," Goodwin told AFL.com.au.
"We know the season ahead and we think he's going to have a really strong season for us."
Goodwin said Kolodjashnij's natural aerobic base – the former Sun is already one of the best runners at the club – would give him a chance to get up to speed quickly.
May, meanwhile, only missed four or five days of training after suffering the low grade hamstring injury on the club's pre-season training camp to Maroochydore last month.
"Steven had a really minor hamstring and he's back doing nearly everything from a running perspective," Goodwin said.
"He potentially could play JLT one, but will definitely play JLT two."
Goodwin is hopeful that senior players Nathan Jones (hamstring/back tightness) and Jake Melksham (hamstring) will be ready to rejoin main training next week in what the coach described was a critical training phase for the pair.
Jones and Melksham have been on modified duties since just before Christmas with their respective ailments, with Goodwin saying both have a bit of work to do to get up to full fitness.
WHO MAKES FINALS? Do the 2019 Ladder Predictor
"They're both going to integrate back in next week. They've certainly done a lot of running in rehab but it's about doing their footy load now," Goodwin said.
"They're probably two guys that will take it right up to the line to be right for round one but once again we're confident with our medical team and our high performance staff with the period we've got left we'll be able to condition them in the way they'll be ready."
Looking longer term, defender Jake Lever is "tracking really well" and will soon look to increase his training load once he arrives back from a trip to the United States to see sports injury specialist Bill Knowles.
"Jake was obviously a little slow before Christmas but he's been uninterrupted in his program and he's about to accelerate that program and he's feeling really comfortable with where that's at," Goodwin said.
"He goes to the US soon to really take that to another level and whilst that's happening he'll really look to ramp up his footy program when he gets back.
"He'll be ready when he's ready. Whether that's round four, round eight, round 12, I'm not too sure. But I know that he's going to have a significant impact for us in the season ahead."
Goodwin is a little more comfortable with where the injury list is placed compared to six weeks ago following a glut of off-season surgeries to key players.
"It's a been a challenge to have so many guys have post-season surgery," Goodwin said.
"Yep, there's an unknown element to it. It's been a shorter preparation and we've got a few guys off post-season surgery but we're going to make sure they've done the load and they've done the preparation and they're ready to go.
"We feel like we've been able to manage that pretty well and hopefully we'll get to the line pretty healthy.
"We may miss a few heading into round one, we're still working towards that but we'll have to wait and see."
Off-season surgeries
Clayton Oliver (double shoulder surgery)
Jack Viney (ankle surgery)
Neville Jetta (shoulder/knee surgery)
James Harmes (shoulder surgery)
Aaron vandenBerg (shoulder surgery)
Jayden Hunt (shoulder surgery)
Christian Petracca (knee surgery)
Mitch Hannan (dual knee surgery)
Oscar McDonald (hip surgery)
Marty Hore (ankle surgery)
Jake Melksham (ankle surgery)
Jake Lever (knee surgery)
Guy Walker (shoulder surgery)
Source: AFL FOOTBALL NEWS