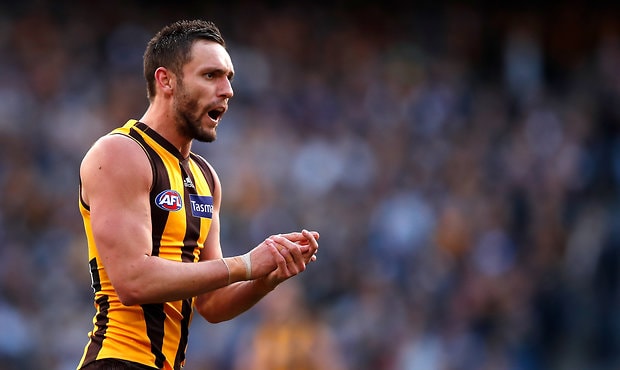 Jack Gunston is confident the Hawks can cover the loss of Tom Mitchell
HAWTHORN players are shattered by the long-term loss of midfield gun Tom Mitchell, but the Hawks remain determined to overcome the massive setback by continuing with their squad mentality.
Hawthorn's 2019 was rocked when Mitchell, the reigning Brownlow medallist, suffered clean breaks in both the tibia and the fibula in his left leg at training on Friday morning.
Teammate Jack Gunston acknowledged the difficulty in replacing Mitchell but was optimistic that the Hawks' boasted sufficient depth to remain a force in 2019.
FULL FIXTURE Every round, every game
"It's obviously shattering to lose a quality player so early in the season, but the beauty of footy these days is that squads win premierships and you need the depth to be coming through, so we're going to rely on those guys," Gunston told reporters after training at Waverley on Monday.
"The beauty of our last couple of years is the (James) Worpels, the James Cousins, the Dan Howes have been able to get exposure at AFL footy, and a spot opens up now for them and it's a good opportunity to grab that with both hands."
ON THE MEND Mitchell recovering after surgery
Emerging leader Mitchell won't be entirely lost to Hawthorn this year, with Gunston expecting him to help coach the Hawks' midfielders.
"It's pretty hard to replace a Brownlow medallist and a two-time best and fairest player (and we'll miss) his leadership on-field and his drive and his desire to get the most out of himself, and off-field I still think he's going to be doing that with his rehab," he said.
"I'm sure he'll be in (assistant coach) Sam Mitchell's pocket with the midfielders and probably doing a little bit of coaching on the side to get him through to keep him around the group and keep him involved, because he's such a quality football brain that you don't just want him sitting in rehab and not helping out the boys."
WHO MAKES FINALS? Do the 2019 Ladder Predictor
Gunston was "pretty close" to the incident that ended Mitchell's season and has jeopardised the Hawks' campaign.
"It was just an innocuous sort of tackling drill, just collision-based, that could happen numerous times in a game or at training. I think it was a bit of bone on bone with one of the other teammates. It was an unfortunate injury but Tommy's getting his head around it now," he said.
"It wasn't until the end of training where we had the docs and the physios give us a heads-up of what's happened. It was something pretty devastating and everyone wanted to know how he is.
"You just feel for your mate. You know it's probably hurting and it's a pretty gruesome injury as well.
"The boys ended up training pretty well and everyone was thinking of Tommy that day. It was obviously a tough one for him and the people close to him, but he's all right now and he's recovering at home.
"A lot of boys have spoken (to him) and texted him and gone around to his house. We're probably annoying him a bit too much with the way we're communicating with him but we'll probably let him be for the next week or so and let him put his feet up and enjoy a bit of Netflix of whatever he's going to do for the next few weeks."
The Hawks trained on Monday morning before temperatures soared above 30 degrees.
Gunston was on restricted duties as he deals with a minor niggle but expects to train fully on Wednesday.
In welcome news for the Hawks, veteran defender Grant Birchall was back running after suffering a pre-Christmas setback with the right knee issue that has ruined his past two seasons, and was joined by former Giants midfielder Tom Scully, who is on the way back from a right ankle injury.
Hawthorn's captaincy remains vacant as the club seeks to replace Jarryd Roughead but Gunston says there is no issue on the track given the leadership density at the club ensures high standards are set.
Source: AFL FOOTBALL NEWS