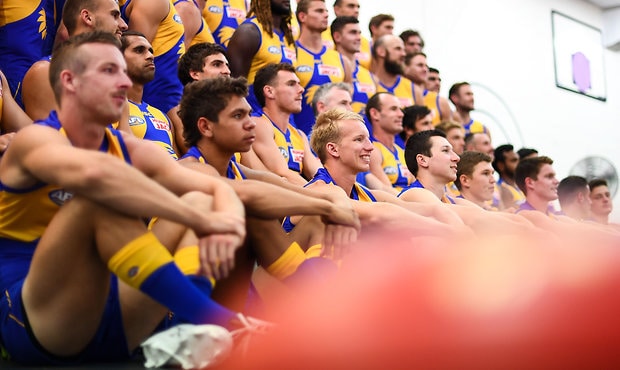 Josh Smith (centre) has replaced Christ Masten as West Coast's new time-trial king
WEST Coast wingman Chris Masten is taking a team-first attitude to getting hard-running recruit Josh Smith up to speed with his role, instead of worrying about the ex-Collingwood utility being a competitor for his position.
Masten joked he was stung "for about 10 minutes" after losing his long-held 2km time trial crown to Smith in January, but in reality the pair have formed a tight bond.
Smith, 25, has turned heads at the Eagles since arriving via the rookie draft, also winning the Yo-Yo test, and shapes as a potential round one debutant.
Finding a spot in a premiership-winning line-up won't be easy, however rule changes to open up the game could work to the elite runners' advantage and Masten was confident they can both fit in the same line-up.
"I think we can both play in the same side. When you get to my age, I start to look at everyone as a competitor," said Masten, who turns 30 in May.

"We're all competing for jobs, but we're also pushing in the same direction and all play together and need to be tight.
"That's how we are here, we're good with that.
"We help each other out as much as we can. I'm just trying to help him learn my role and if he needs to learn other ones, the other boys will be doing the same thing.
"I think he (Smith) can play anywhere with the tank that he's got, he's pretty smart and he's got good skills."
More to come
Source: AFL FOOTBALL NEWS