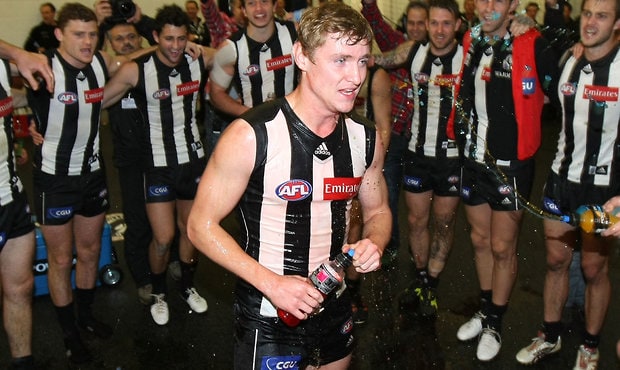 Ex-Magpie Caolan Mooney after his winning AFL debut in 2012. All pictures: AFL Photos
FORMER Irish Magpie Caolan Mooney wants to play in the AFL again.
AFL.com.au understands Mooney nominated for this week's NAB AFL Draft in the hope of rekindling a six-game career that came to a halt at the end of the 2014 season when he chose to go home.
The 26-year-old forward had another year left on his contract at the time.
Mooney was a substitute in all of his six senior matches for the Pies in 2012 and 2013 and injuries held him back on occasion.
The 184cm athlete made his AFL debut against Fremantle after kicking five goals the previous week in the VFL, where he was a regular goalkicker.
It's unclear whether Collingwood or another club has promised Mooney he will be drafted or if he is just gauging interest in him.
Reflecting on his AFL stint at a Gaelic Athletic Association event two years ago, he said he would have benefited in going to Australia at a more advanced age.
Find Road to the Draft on Apple Podcasts, Google Podcasts and Spotify.
"The first two years when I went, I was still naive, and I thought, 'This is brilliant – I'm getting paid to kick a football'," Mooney said at the time.
"In my third year, I thought, 'This wasn't as enjoyable as I thought it was going to be'.
"If I had went out a bit older or if I had a bit of college experience (it might have worked out differently).
"Being thrown out there and living away from home by yourself was a tough ask, and by the third year … I was sick of it and wanted to get home."
>> Follow the 2019 NAB AFL Draft on Fox Footy from 6.30pm AEDT on Wednesday, November 27 and Thursday, November 28. Not a Foxtel or Kayo subscriber? Cal Twomey, Nat Edwards, Riley Beveridge and Mitch Cleary bring you Draft Night Live on AFL.com.au and the AFL Live Official App, from 6.30pm AEDT on Wednesday, November 27.
Mooney's appeal when he came to Australia originally was his breakneck speed and athleticism, traits he's retained in becoming one of the outstanding players in Gaelic football.
The County Down star has kept in touch with Australian Football by training alongside younger Irish prospects working with another former Magpie, Marty Clarke.
There are already set to be a record 17 Irishmen on AFL lists next year.
>> Catch all the build-up to the 2019 NAB AFL Draft in our Draft Countdown Live. Cal Twomey, Riley Beveridge and Mitch Cleary will interview coaches, recruiters and prospective draftees over two massive days from 2pm AEDT on Tuesday, November 26 and Wednesday, November 27.
Source: AFL FOOTBALL NEWS